CaDA Bricks Master Series Italian Supercar Set | C61042W / C61043W
C61042W
CaDA Bricks Italian Supercar
There are two varieties in the option, please make sure you have already chosen the right one before you add it to the cart or proceed to checkout.
1. Motorized Version (Original Brunojj1's Design) | C61042w
2. Non-Motorized Version (Base on Brunojj1's Design) | C61043w
Welcome to the Cada Master series
The Master series is based on licensing copyrighted Moc designs from original designers. The idea behind the Master series is to allow brick hobbyists from around the world to experience great builds from well-known Moc designers by bringing the licensed design and components to one place conveniently and work with Moc designers to help them create more Moc designs.
Italian Supercar comes in exquisite packaging which is a piece of art in itself. On the box, you will find Bruno J's written nickname and his signature. The C61042 set consists of 3187 pieces which are packed in 6 numbered boxes. A top quality, multi-color instruction book with the designer's self-introduction and detailed building steps, easy to follow thanks to the well-thought design work, delivers a unique and satisfying building experience.
The model itself is considered to be both - a faithful 1:8 scale replica deservedly sitting on a collectors´ shelf and a functional RC fun toy at the same time. The chassis is built from 3 basic modules with sophisticated bodywork on top. The car features great playability with a manually opening bonnet, engine hood, glove box, and doors with functional door locks. Along with independent wheel suspension, there is a detailed V8 cylinder engine sitting at the back. The main functions are operated remotely: LED lights, driving, steering, and a 4-speed sequential gearbox. You can see all the moving parts in action without even touching the car: engine pistons, steering wheel, shift paddles, and gear indicator.  
Specifications
Item number: C61042W
Name of the product: Italian Super Car
Pieces (Pcs): 3187
Product size: Length 52cm * Width 25cm * Height 13cm
Packing: Original box
Features
1.This is a detailed Italian supercar replica.
The design comes from famous within building bricks community German Moc designer Bruno J. Scale 1:8.
2.Exterior and Interior details:
The cockpit, the engine compartment, steering wheel, left and right rearview mirror, double seats, gearbox lever. To emphasize exterior and interior details the stickers were added.
3. Structure:
A. Front and rear independent spring suspensions;
B. Rear-wheel drive;
C. V8 engine's moving pistons (while driving)
4. Remote Control:
Driving, steering, front and rear LED lights, gearbox;
5. Bonnet, engine hood, glove box, doors, and door locks;
6. Exquisite packaging with numbered boxes inside.
7. The set comes in a motorized version only.
Additional Information
JV1010/7.4V rechargeable lipo battery box.
JV8011/1.5V Radio control which requires 2 AA size batteries(batteries are not included);
New motors and servos (S059-003 power pack system - double as fast and powerful as S054-003, S059 is called Pro, which stands for professional)
2 x L size Pro Motor JV5028
2 x Pro Servos Motor JV5029
2 x LED lights JV3012
The anticipation is overwhelming :-o
I have not received the package yet as apparently it is still in China. It is already two full weeks from placing my order and I am still getting excited every day like a little child looking forward to see any update on the delivery or suprisingly receiving the box. Maybe one day I will run out of happy hormones, but till then I take it as part of the experience. It was meant as present, so the other one is already sad, but I keep being optimistic.
Perfect! 👌🏻
Everything fine with this Purchase!!!
Shipment arrived during 10 Business days and
Tracking was also Perfect.
I'm exciting to build up my First CADA set.
It looks like much fun!!!
Kind regards from Germany 🙋🏻‍♂️
need more variety of colors, too many black internal peices, makes very hard to build. also instructions were too cluttered, not very well layed out.
maybe just have 1 or 2 steps per page, not 5 or 6.
also maybe only 2 instruction books not 5 WTF
Super great
My third Master car build. Very nice and all works well except the tail lights from start up. Does anyone know where to buy replacement ?
Can't review what I don't have
Would really like to review this car but as I ordered it last month and it hasn't even shipped yet I find reviewing it kind of hard to do.
Great technic model
The model is great, all the functions work as advertised, remote control is intuitive, and unboxing was Apple-level.
In my Opinion the best technic set in the brick world.
I am really happy that I could get one of these. An absolute great set - great functions. I made a review on my german YouTube channel.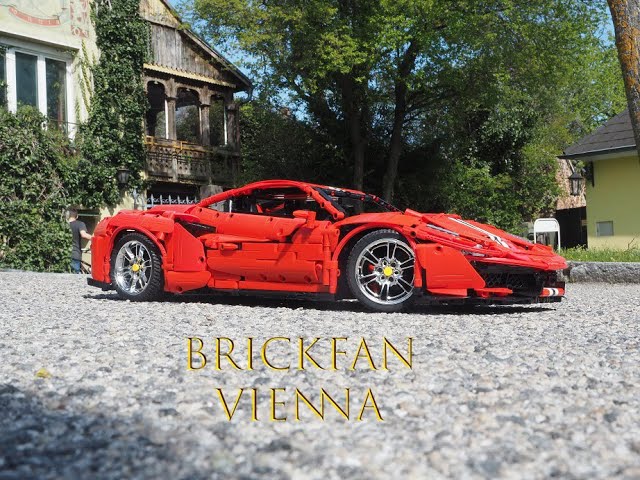 Master series 61043 Ferrari CaDa
Beste,
Ik heb onlangs de niet gemotoriseerde versie, C61043, aangekocht. Momenteel ben ik nog bezig met de bouw van de prachtige Lamborgini. Ik heb wel een pakket motorisatie apart aangekocht van CaDa. Is het mogelijk om een handleiding te downloaden die het mij mogelijk maakt mijn versie C61043 gemotoriseerd te bouwen?
Alvast met veel dank!
Best challenging fun in a long time!
I tried one of Legos "Adult" kits before this one and it wasn't hard at all. This car was AWESOME! Love how detailed it is, everything works. Steering wheel turns when you turn the car, shifting works, lights, forward/reverse... I want to thank the designers of this and will continue to purchase your difficult kits. Please keep designing new challenging kits and I will keep buying them. Lastly, I am a tech guy, but I am amazed at the skill it took to design this car, make so everything works right while still looking like a car, and creating excellent documentation and packaging.