Leider mit Mängeln
War von vielen positiven Berichten vom Modell angetan, leider hat es einige Probleme.
Bauanleitung ist sehr schlecht da bin ich von CaDA besseres gewohnt. Z.B. einige Male muss geraten werden wo welcher Pin reingehört, schlechte Ansicht könnte echt besser sein. Die Lenkung (4RadLenkung) über so viele Zahnräder funktioniert auch nicht perfekt. Viele Panels waren Verdreckt bzw. stark verkratzt (wahrscheinlich mieser Transport). Endergebnis ist aber ein tolles Fahrzeug.
Großartiges Technic Modell
Wir dürfen mal wieder CaDA zu Recht beweihräuchern!
Denn, mit dem Technic Model C 61048W haben sie es mal wieder geschafft und haben ein sagenhaftes Modellauto auf die Räder gestellt, das einfach nur faszinierend ist! Hier stimmt neben Qualität auch Preis-Leistung bezüglich, was wir an sensationell vielen Teilen bekommen. Meiner Meinung nach sind sie im Technic Bereich der Klemmbausteine auf der Pole Position! Mag sein, dass sie mit dem MOC von Dugald Cameron zwar keine Lizenz für einen Supersportwagen bekommen haben. Denn der Designer hat sich an der Silhouette des Koenigseeg Jesko orientiert, der wohl der Nachfolger des Agera wird. Der Bolide ist wirklich ein tolles Modell, was man als Auto-Fan in die Vitrine stellen sollte. Und nicht nur wegen der vielen Funktionen, die das Fahrzeug innehat.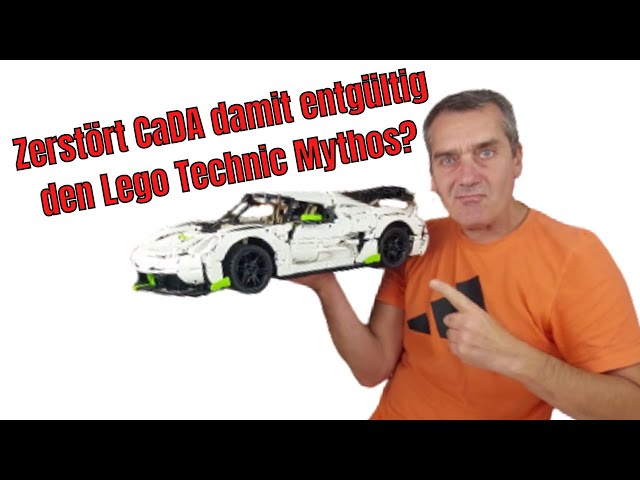 Amazed
Saw it, loved it, watched the speed build on youtube. It looks to be a very good set. Placed my order and Im just waiting to arrive home. I'll be back as soon as I complete the set and provide you photos even a short video.
Very cool build !!
This is a very well put together MOC. All the features work perfectly and it looks great when finished. Lots of fun to build and is modular in structure. You also need a bit of building experience for this set to be completed. All in all a great set!!
Sehr schnelle Lieferung und ein schönes Modell.