CaDA Initial-D Fujiwara's Tofu Shop | C61031W
C61031W
Initial-D Takumi Fujiwara's Tofu Shop


A must have for Initial D fans
Very cool set. Has a lot of detail in it. The box that it comes in has very nice art. 10/10.
Nice
Saw this on TikTok, worth the purchase.
Great Set.
I love the fact that it is based on a famous anime, (even though I have nevered watched it. About up to par with Lego quality, (but better price and choices). looking forward to getting other items.
Funny thing it is the same set I see on youtube "3D Botmaker".
Awesome
A very good set ! Fan on the anime will love all the details and effort that have been put for this set. Manual is perfectly understandable, which is a surprise from an other brand than lego, visual are so sick on the packaging.
Loving it!
I hope to see more initial d related buildings or cars. Added this to my bricks collection.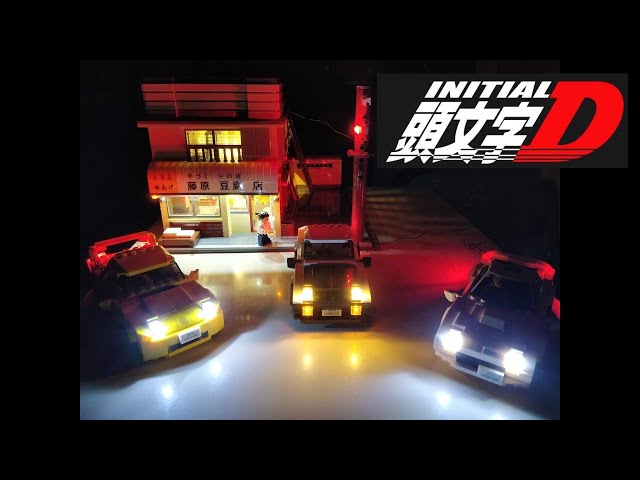 Beyond Expectations!
I was in the process of designing a MOC of this very building when I came across this kit. As a first time CaDA purchaser I wasn't sure what to expect but they far exceeded my expectations!
Packaging is great with beautiful details, instructions are well done and easy to follow and the bricks themselves are terrific, and directly compatible with my other bricks!
I was even able to add my own custom touches to the model such as expanding the street, modifying the tree and light pole, adding lights, custom figures and my own custom 86 using pieces from my existing collection to round out the build!
Really hoping they keep going with these sets as I'd love to build the gas station, diner or the top of Mt Akina!
Thank you for your love and support to CaDA! We will continue to work hard to create more good works!
Awesome set
The bricks are good quality except for the bottom of the... tofu machines? They don't attach to the floor well. The set was designed well. It has good interior details. Wish a kitchen and bathroom are included to make this a complete house. But for $99, I cannot complain. The box is also beautiful. Exceptional job, CaDa! Keep it up! Look forward to more brick buildings from you!
Excellent Quality
First time purchasing a non LEGO set. The quality of the blocks is excellent. Highly comparable. The care of packaging and artwork show far more detail than I usually see from other projects. Not sure if I want to build it or keep it as an art piece with some of my others. Will def keep the box. B eautiful!
Thank you for your love and support to CaDA! We will continue to work hard to create more good works! Thank you very much!