Master Series Moc Supercar 770-4 | C61041W
C61041W
CaDA Master Series Moc Supercar 770-4 | C61041W
Main Features
Bricks Quantity: 3842PCS
Materials: ABS
Difficulty: Extra High
Package weight: 5.6 kg
Package size (L x W x H): 58 x 39 x 16 cm

Attention: Without the power system.
Welcome to Cada Master series. The Master series is based on licensing copyrighted Moc designs from original designers. The idea behind Master series is to allow brick hobbyists from around the world to experience great builds from well-known Moc designers by bringing the licensed design and components at one place conveniently and work with Moc designers to help them create more Moc designs.
Cada is proud to present the first Cada Master series set C61041W from Thijs De Bour. Thijs de Bour is a young engineering student and comes from Holland and this is his short introduction: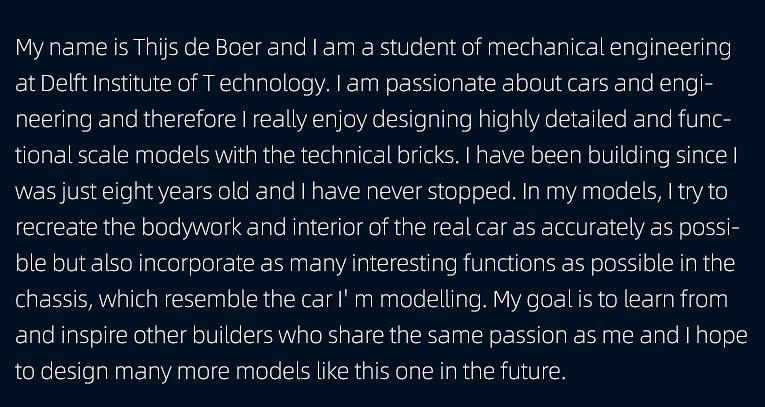 770-4 Super Car comes in an exquisite box along with a fine quality instruction book with detailed building instructions. The C61041W set consists of 3842 pieces which are packed in numbered 4 boxes.
The model itself is a real master class design with realistic exterior and is a 1:8 scale replica. The set is built from 14 individually detachable modules. 770-4 Super Car features with openable bonnet, under is a detailed V12 cylinder engine with moving pistons and a knob to control adjustable tail spoiler. Working linked steering wheel is based on the front panel for easy access and play. The model has independent front and rear suspensions for smooth and lifelike movement. All wheel drive (AWD) with 3 differentials ensure stability in rough terrain conditions. A great feature worth mentioning is the 7 speed sequential transmission gearbox which is controlled with the gearshift inside the cabin.
Under the front bonnet, is a luxurious luggage compartment. The open doors give access to a detailed interior design including: adjustable dual seats, steering wheel, rear-view mirror, armrest box, control panel and gearbox stick.
C61041W is definitely a rewarding build which will impress most demanding super car brick fans.
Horrible Instructions and Build
I've put together many 1:8 scale vehicles and I have to say this is the worst instructions and builds ever. Loose pieces after too many steps. Steps have too many sequences. The only reason I have it two stars is because of the great look.
Hard to build, poor construction
The manual is written by a masochist. You literally have to keep some parts from falling apart in the process and I double John - pictures are small and a lot of steps were pushed in one picture.
The model is quite good looking, but the overall construction is weak. I had to glue some parts, because they weren't just staying in places.
So, overall, it's a good display model, but there's 0 fun to build it. Doesn't worth buying at all.
Very difficult and pretty, but not very functional
I just completed this model. It is very beautiful as an end product, but there are some things to note: other reviewers also have noted some of its issues. First off, while the infrastructure is built like a rock, the outside skin is very fragile, most plates are attached by a single swivel and moved if touched. There are many pieces that merely rest upon another piece, barely attached and near the bottom rim of the car; so when handling the car they tend to break off (I actually glued a few just to keep them in place). There are many hidden areas within the build and the instructions don't really notify you of these until it is too late - those with smaller hands may have no issues, but adults will. Tying the clutch to the transmission is connected via a pin buried deep in the structure; I had to fabricate a tool out of 12 ga wire to lodge the pin. The model itself is not super difficult, what brings the challenge is the manual. I did the Ferrari model which had five manuals, this had 700 more pieces and only 4 manuals. The illustrations are much smaller and the majority of the structure is black, making it very hard to see placement. Also, there is quite a bit within the car that doesn't need to be there, complex gearing that really does nothing other than filling it up. One cool thing during the build was the retractable wing - the build of the wing structure was fascinating, but the blue wing was too heavy and the genius functionality didn't work so great once the wing was attached. One thing that truly was disappointing and not a fault of the kit, is that it is not motorized, so the cool transmission, clutch, steering, wing couldn't really be demonstrated well, manually, oh and the doors were just in need of a total redesign. I did enjoy the build and it was definitely a challenge; I hope that CADA continues to make Master level kits that are fun and challenging. And, even though, this review may have some points of critique; the designers of these completely blow my mind... absolutely skillful masters in their designs - getting it to all fit and function while still having it look like a car... JUST WOW!
Thank you for your purchase and your support to CaDA. Your comments are very important to us, and we will strive to do better ~
Excellent service fast delivery will Order again 100%. Product well wrapped will recommend to friends.
CaDA Master Series Moc Supercar 770-4 | C61041W
Great set, so excited to work on it, and shipping was fast and timely. Thank you! Definitely will order again.
Amazing service and very good looking finished product
I will definitely buy from here again! The service is amazing and box is in very good shape. The finished build also looks very very good! But the Set has its fair share of problems. Difficuelty with some of the building process and instructions and its very fragile when finished (more of a showpiece than a toy, but this has something to do with the designer not decadastore which is just awesome!! I recomend it to everyone who wants a safe buy and im more than interested myself in buying the ferrari
The photos looks just great! Thank you for sharing. We are looking much forward to serve you again with our best service.