Master Series Moc Supercar 770-4 | C61041W
C61041W
CaDA Master Series Moc Supercar 770-4 | C61041W
Main Features
Bricks Quantity: 3842PCS
Materials: ABS
Difficulty: Extra High
Package weight: 5.6 kg
Package size (L x W x H): 58 x 39 x 16 cm

Attention: Without the power system.
Welcome to Cada Master series. The Master series is based on licensing copyrighted Moc designs from original designers. The idea behind Master series is to allow brick hobbyists from around the world to experience great builds from well-known Moc designers by bringing the licensed design and components at one place conveniently and work with Moc designers to help them create more Moc designs.
Cada is proud to present the first Cada Master series set C61041W from Thijs De Bour. Thijs de Bour is a young engineering student and comes from Holland and this is his short introduction: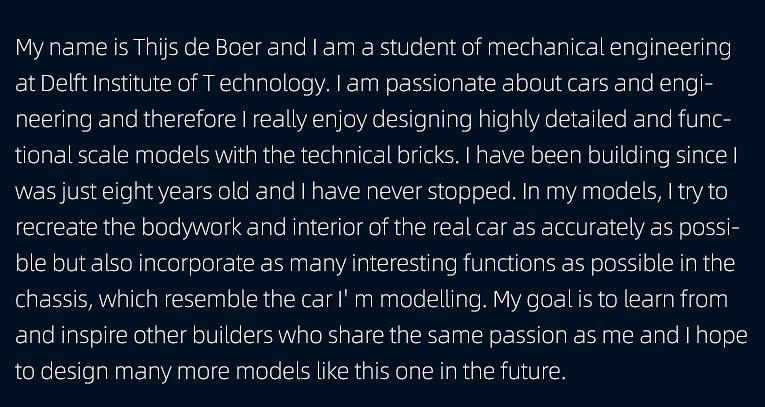 770-4 Super Car comes in an exquisite box along with a fine quality instruction book with detailed building instructions. The C61041W set consists of 3842 pieces which are packed in numbered 4 boxes.
The model itself is a real master class design with realistic exterior and is a 1:8 scale replica. The set is built from 14 individually detachable modules. 770-4 Super Car features with openable bonnet, under is a detailed V12 cylinder engine with moving pistons and a knob to control adjustable tail spoiler. Working linked steering wheel is based on the front panel for easy access and play. The model has independent front and rear suspensions for smooth and lifelike movement. All wheel drive (AWD) with 3 differentials ensure stability in rough terrain conditions. A great feature worth mentioning is the 7 speed sequential transmission gearbox which is controlled with the gearshift inside the cabin.
Under the front bonnet, is a luxurious luggage compartment. The open doors give access to a detailed interior design including: adjustable dual seats, steering wheel, rear-view mirror, armrest box, control panel and gearbox stick.
C61041W is definitely a rewarding build which will impress most demanding super car brick fans.
Excellent service fast delivery will Order again 100%. Product well wrapped will recommend to friends.
CaDA Master Series Moc Supercar 770-4 | C61041W
Great set, so excited to work on it, and shipping was fast and timely. Thank you! Definitely will order again.
Amazing service and very good looking finished product
I will definitely buy from here again! The service is amazing and box is in very good shape. The finished build also looks very very good! But the Set has its fair share of problems. Difficuelty with some of the building process and instructions and its very fragile when finished (more of a showpiece than a toy, but this has something to do with the designer not decadastore which is just awesome!! I recomend it to everyone who wants a safe buy and im more than interested myself in buying the ferrari
The photos looks just great! Thank you for sharing. We are looking much forward to serve you again with our best service.