Blast through Gunma's Mountains in Keisuke's Mazda RX-7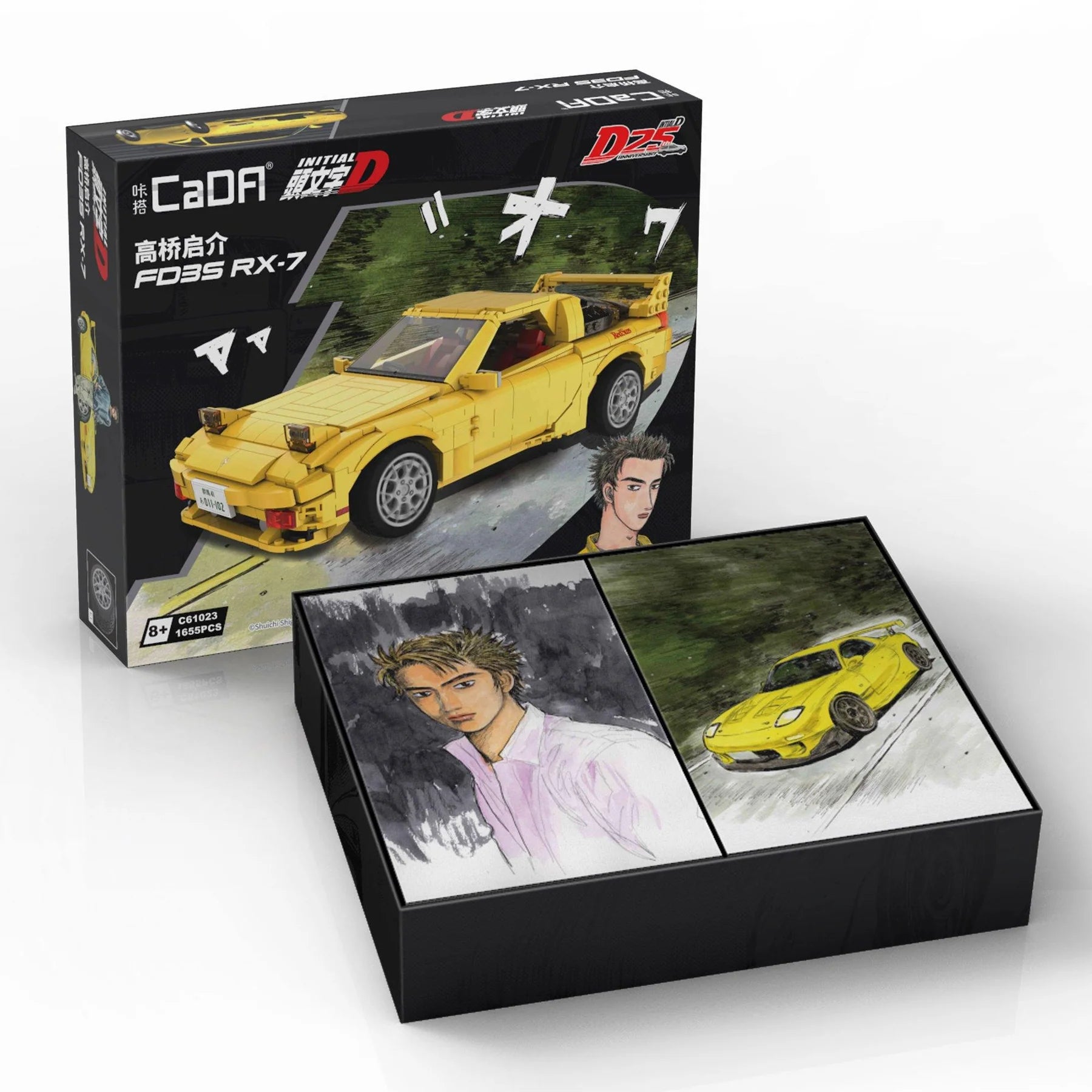 Blast through Gunma's Mountains in Keisuke's Mazda RX-7 FD3S
The Mazda RX-7 FD3S is probably the second most iconic car to feature prominently in Initial D, only behind Takumi's Toyota AE86 Trueno. This blazing yellow mid-engine street racer driven by Keisuke Takahashi was the first obstacle Takumi Fujiwara had to overcome. While eventually beaten, the Mazda RX-7 is widely considered one of the finest vehicles for racing through Japan's mountain passes. Most would see it as technically superior to the AE86, especially on the straights. Eventually, Keisuke joins Takumi as one of the 'double aces' for Project D.
The Mazda RX-7 was powered by a twin rotor rotary engine with twin turbos and sported 340 horsepower at the start of the manga. It would later be upgraded to 450 horsepower and increased maneuverability thanks to its new spoilers, aero kit, muffler and new racing hood.
Teaming up with both the creators of Initial D and Mazda, CaDa Bricks now presents an officially licensed detailed 1:12 model of the Mazda RX-7 FD3S. At close to 1700 pieces, the kit allows the vehicle to be built in two versions. Just as the manga features the vehicle being upgraded over the course of the story. You can recreate your favorite version of your car: pre-upgrade, or post-upgrade. Thanks to the double licensing, the models produced by CaDa Bricks resemble the real thing, right up to the tiny details.
Balancing aesthetics with the technical, the builder gets to build the models from a brick creator angle for the exterior, with detailed and correctly colored panels for a smooth finish. The interior consists of sophisticated technic style design for real-life functions and systems.
The model even allows for installation of a battery box and RC module (sold separably) for true racing action. A great option for those who really dig speed!

 The CaDa Bricks Mazda RX-7 FD3S features:
Many points of articulation, including opening trunk, hood and doors
A detailed interior, with distinguishable seats, gear shift, dashboard, handbrake and working steering wheel
An engine bay that includes such details as pistons, and even a separate nitrous oxide tank
Customization options to upgrade the Mazda RX-7 to its post-upgrade form, including an alternative wing, exhaust, aero kit, racing hood and side skirts
Working suspension
Option for motorization, with radio control range of 30 meter (sold separably)
1655 pieces, suitable for any brick building hobbyist
The Perfect Gift for any Fan
The CaDa Bricks Mazda RX-7 brick model is a great gift for collectors and brick enthusiasts alike. The adjustable stand allows for showing off your Mazda model in any way and setting you prefer. All CaDa Bricks Initial D models go together, allowing you to display your collection as it fits the environment best.
Also included is exclusive hand-drawn art by Shuichi Shigeno himself. It is sure to wow any fans receiving the set as a gift, especially since they can take the art out of the box and use it as a poster in their room, or as an addition to any display case.
Fans will notice that 2020 saw the 25th anniversary of the series. To celebrate this milestone, CaDa Bricks includes a limited edition 25th anniversary brick to every set!
Stay Tuned for the upcoming 1:24 Scale Initial D brick models, great for the casual builder and manga fan!
Related Posts:
Celebrating Initial D 's 25th Anniversary >>
The White Comet: Ryosuke's Mazda RX-7 FC3S >>
---