Double E RC Land Rover Defender D110 Second Edition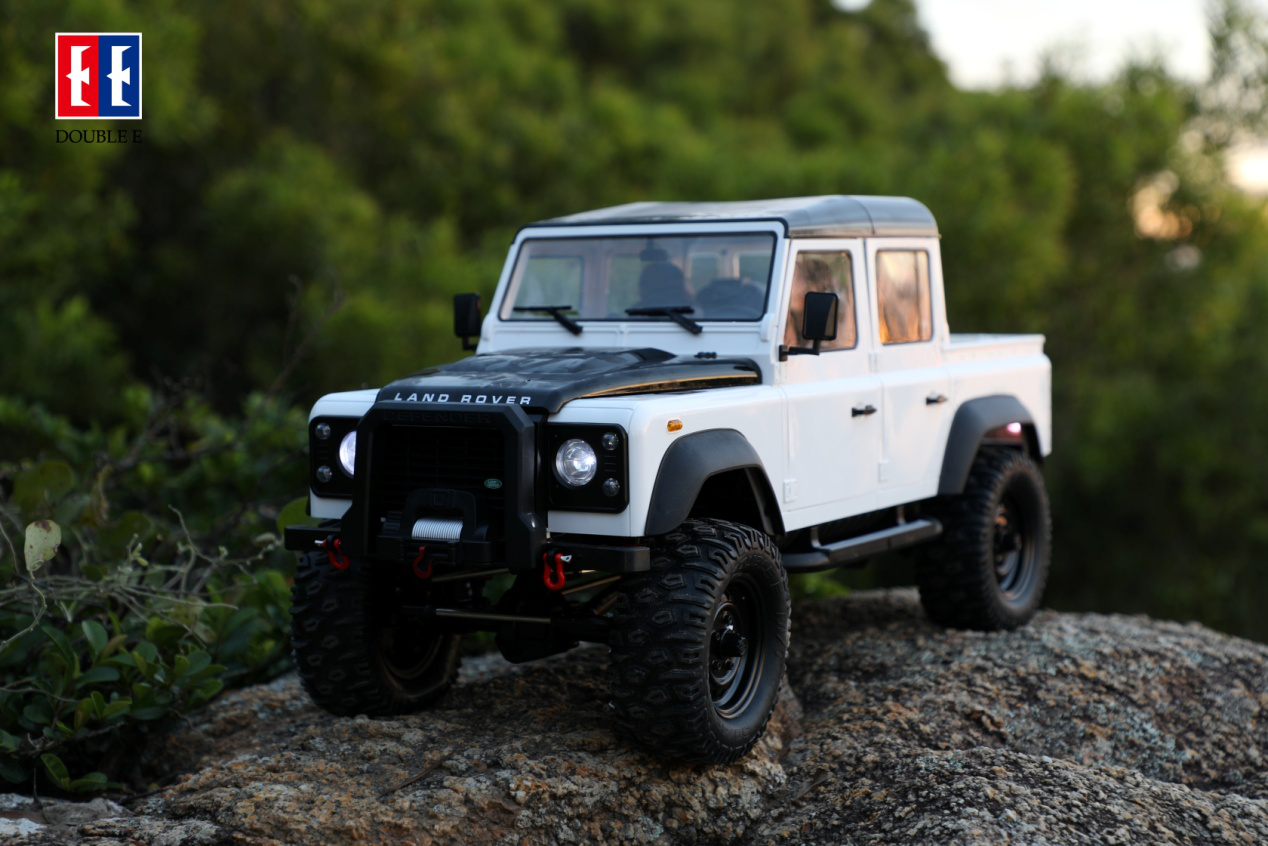 It has been over a year since Double E released the RC Land Rover Defender D110 in a convenient, ready to run version including 2 cell battery. The detailed interior/ exterior with a 1:8 scale to the actual car has caught enthusiasts' attention. The model comes in two versions and colors: a white pickup and a station wagon in orange and green color.
Those who bought the RC Land Rover Defender were very happy with what they got for the low price. Since it is now one year from the original Defender's release, Double E has decided to take the next step forward and release a new version of the white pickup Defender. While continuing to incorporate key features from the original Land Rover Defender, the new version of the Defender boasts performance and has a more realistic look.
What are the main differences? A more realistic look!
New color of the RC Land Rover Defender and shorter axles - to make it more realistic
Front and rear bumpers with shackles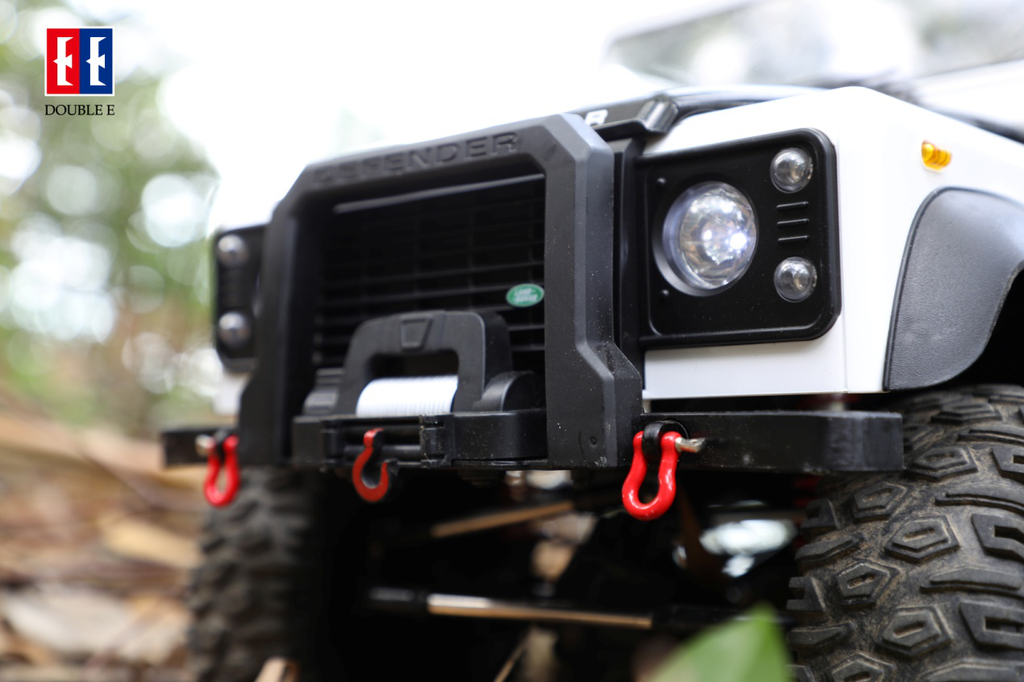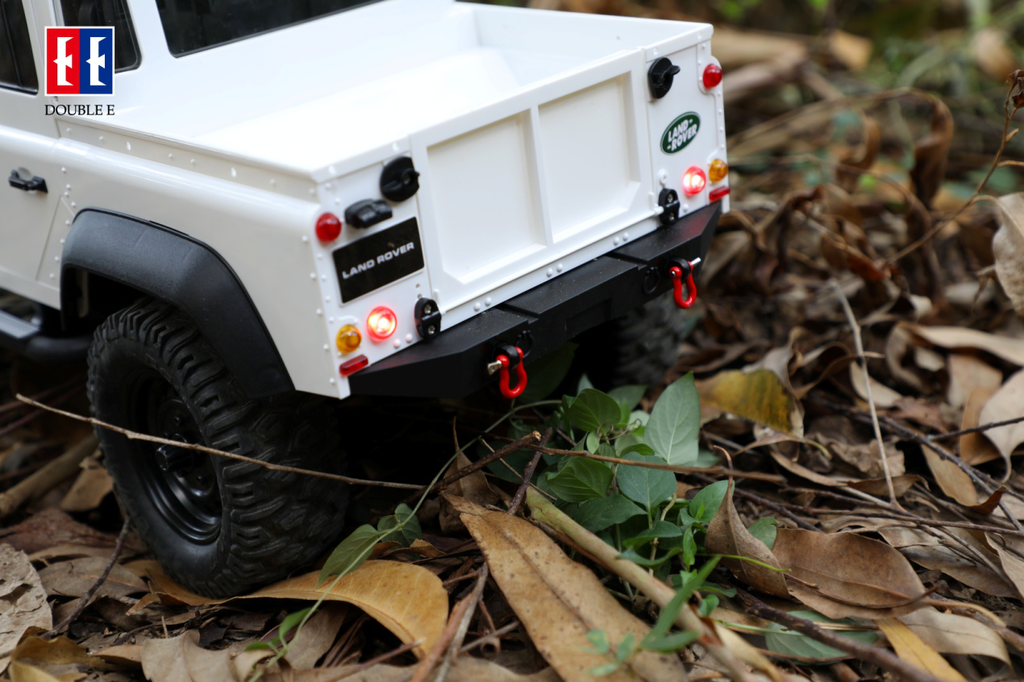 Also, to spice up the rock crawling experience, the Double E team decided to modify the front bumper.  The new RC Land Rover Defender D110 front bumper has a fake winch, which can be easily removed and replaced with a real one. Yes! The front bumper has a winch mount seat.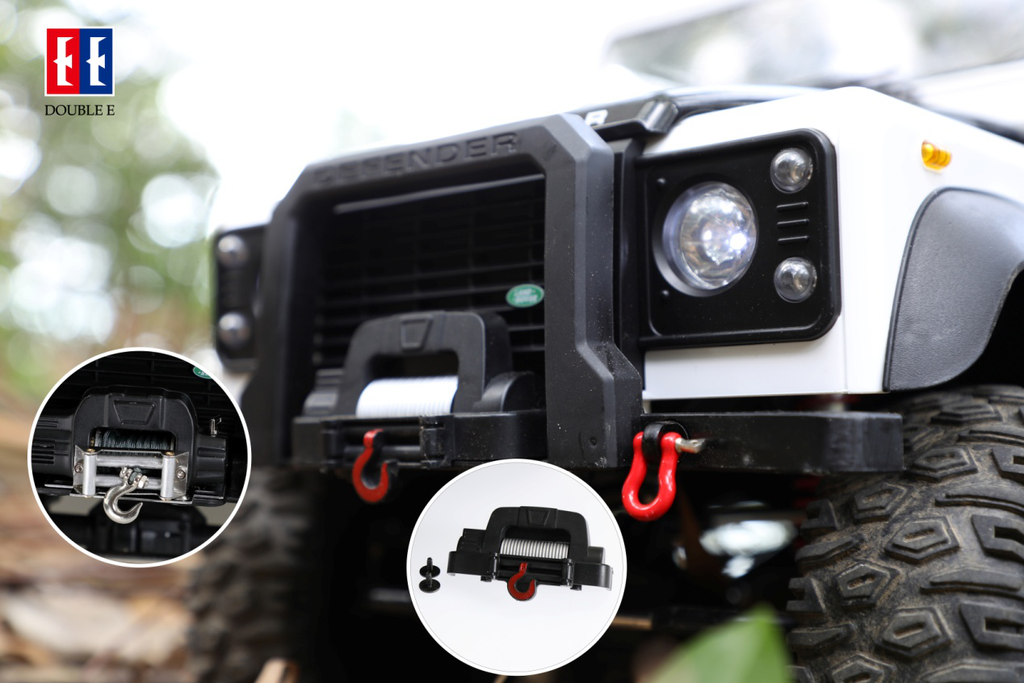 The earlier version Defender's doors were difficult to close and often used to open during the ride. That was a frustrating experience for hobbyists, especially while recording videos or taking pictures. The Double E team has now solved it by adding magnets to the front doors.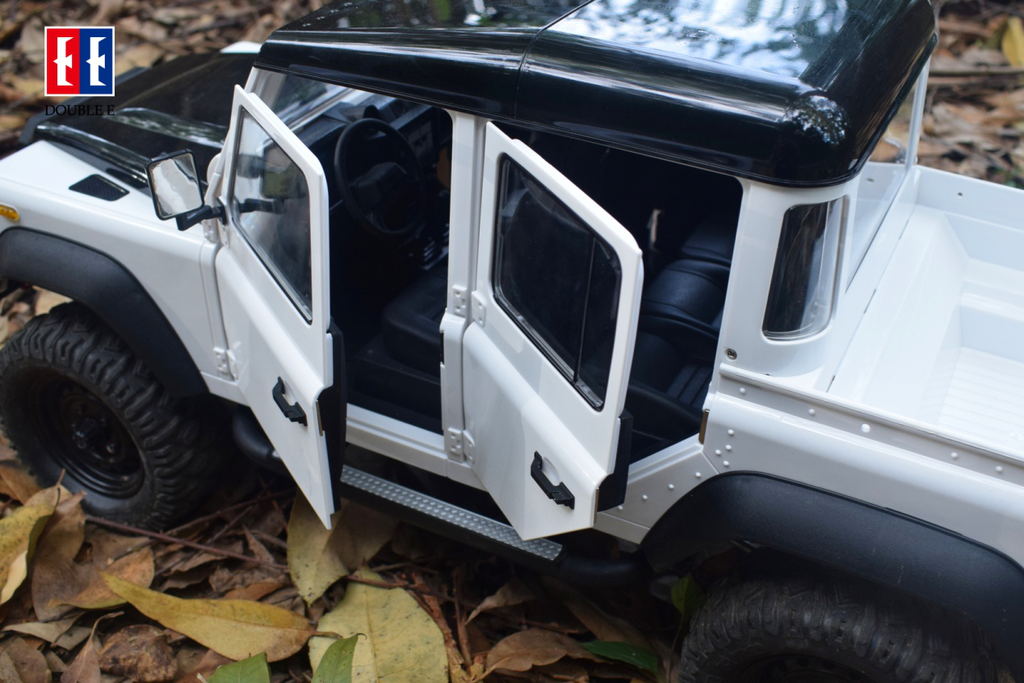 It is now time to dive into detailed technical specifications and show how the new RC Land Rover Defender's performance has improved.
Shocks & Axle
Shorter front/ rear axles and lower ground clearance not only makes this model look more realistic but also allows for more stable performance. New softer shock springs are not as stiff which allows to maintain better grip.
To increase overall performance of the rock crawler, the plastic drive shafts have been replaced with metal ones. Metal drive shafts allow to put more weight down and reduce wobble effect.
Another important thing to mention is that the new RC Land Rover Defender's front axles have metal bearings.
Water Splash-Proof ESC/ Receiver
Different off-road environment conditions such as shallow paddles and tiny creeks were taken under consideration too. Water splash-proof ESC allows you to go to those places without worrying about destroying the electronics.
Notice: The Defender D110 is not fully waterproof. While operating in the wet environment, please pay attention to the motor.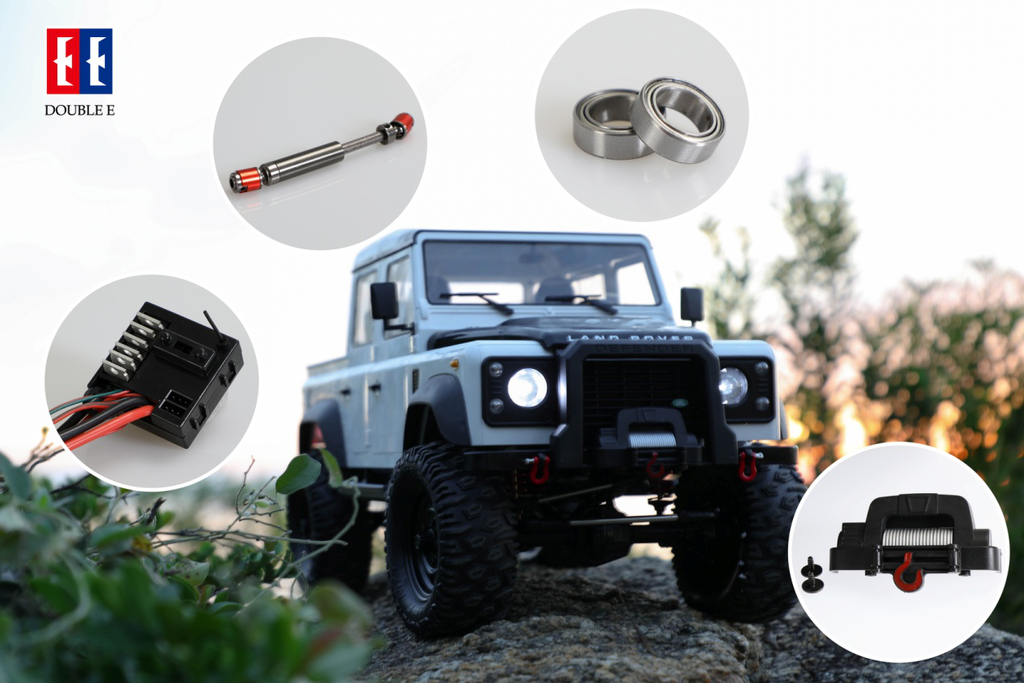 Summary
Double E upgraded version RC Defender is more durable and capable in its performance than the previous version. Metal drive shafts, metal bearings and new shocks provide more optimal performance for any terrain. The Front bumper winch mount seat opens the path for whole new tough terrain challenges and opportunities. Stunning white pickup with the look of real 1:1 truck will not only impress your hobby friends but also RC replica model collectors.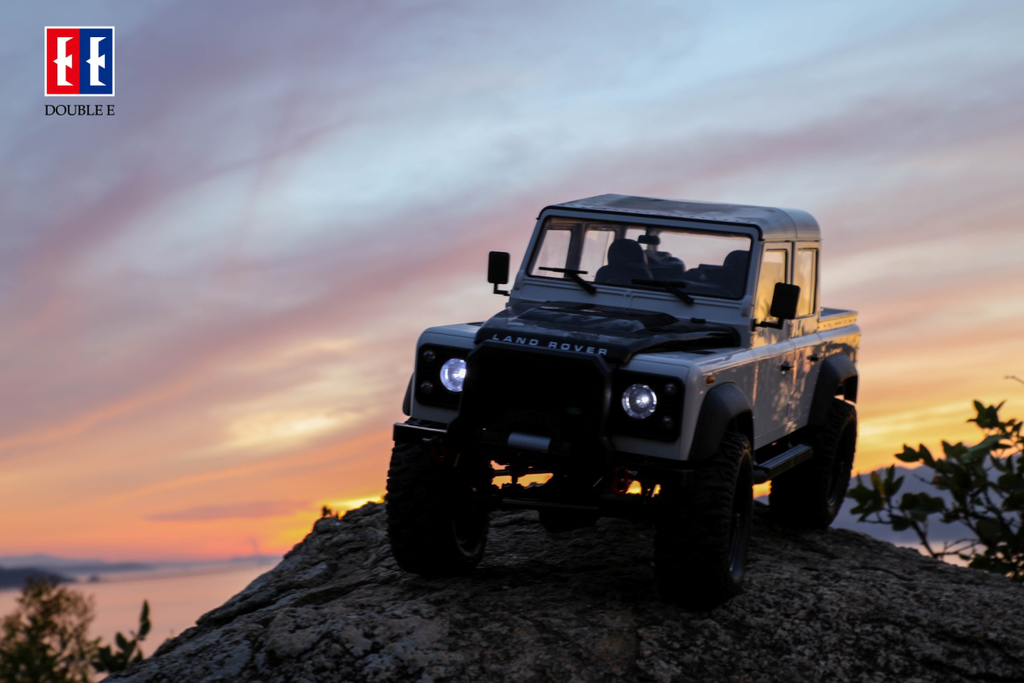 Features:
Licensed by Land Rover
1:8 Scale
Detailed exterior and interior
Openable doors, hood and back trunk
Front bumper winch mount seat
Back and front bumper shackles
Working front and rear lights
Metal chassis with adjustable wheelbase
All steel suspension links
Metal driveshafts
Water splash-proof ESC/receiver (2in1)
Front axle metal bearings
Aluminum oil shocks
Brushed 550 motor
H/L speed modes
Magnet door locks
Fully proportional steering
High-torque servo 21kg
2S or 3S batteries
---