CaDA Master series set the C61051W Telehandler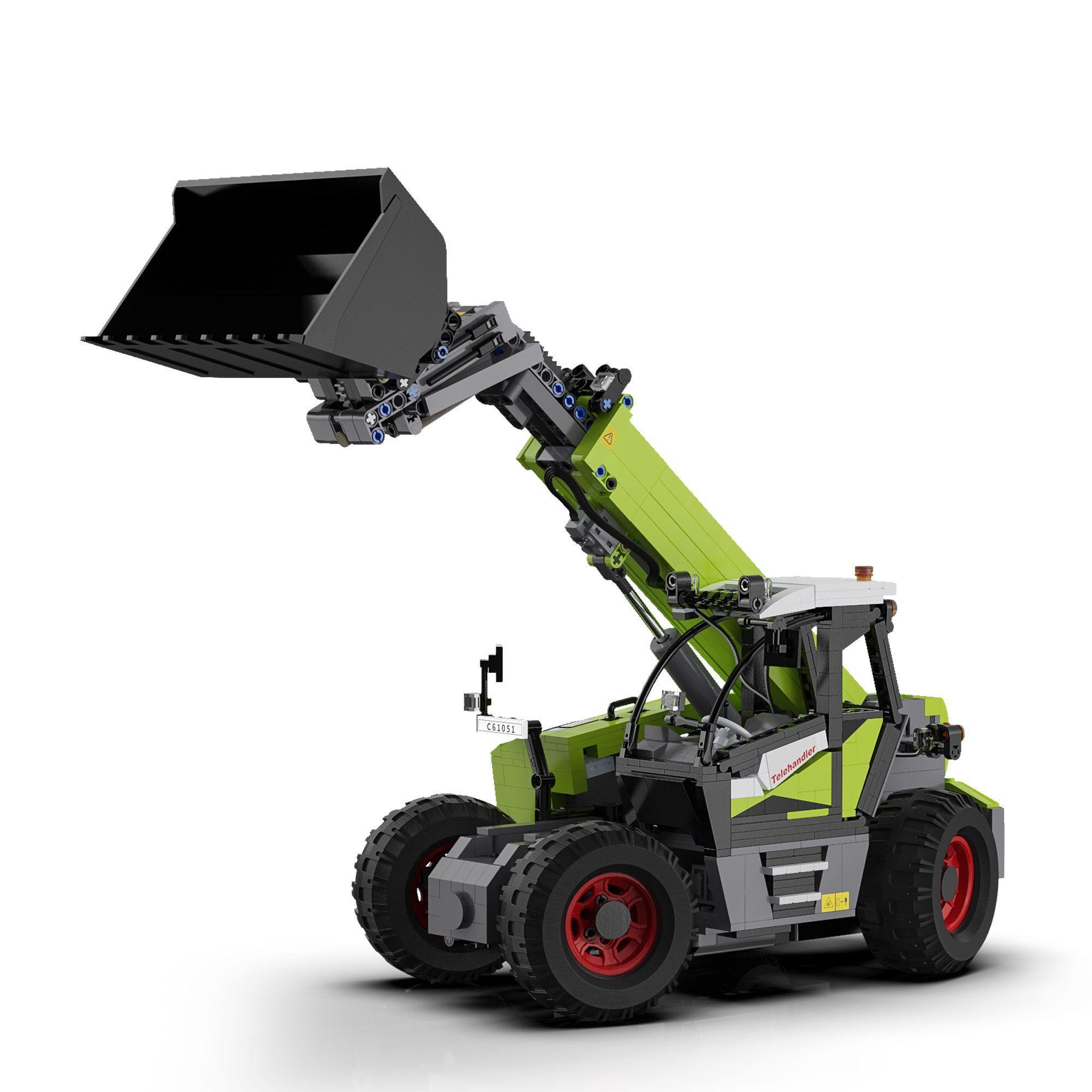 Guess what?
Surprise!
The 3rd set from CaDA Master Series is not a supercar! We thought that having only super cars is too monotonous and CaDA team decided to look in another direction - farm machines. And here we are, ready again to announce the next CaDA Master series set the C61051W Telehandler.
CaDA Bricks November release: C61051W Telehandler
Pieces:  1520
Scale:   1:17
Size of the model: 52*25*13cm
The set comes in a motorized version only. In the box you will find the Pro series power system elements (2 RC transmitters, battery box, lights, 3 M size motors, 1 L size motor and 1 servo).
The set comes from Polish MOC designer Eric Trax. Trax is definitely one of the most famous MOC designers and very well-known for his farming theme builds.
Eric Trax Youtube account: https://www.youtube.com/c/EricTrax/featured
Many of you may be curious on why the Telehandler came as the main choice for CaDA as there are many other cool builds in Eric Trax' collection. The main reason is the extremely high functionality and play value of the Telehandler combined with a great look and compact size.
You are probably getting impatient to know the details so let us get to the point and look at C61051W set.
The packaging, continuing CaDA's Master series tradition, is a collectible item by itself. CaDA bricks designers distributed the bags in two boxes. Together, the two boxes combine to show a picture of the final build. A set of stickers is kept for additional detailing.
The 1:17 scale and 1520 pieces make the build a very compact and sturdy set which can be carried easily outside your home. The set uses 5 motors to power various functions.
The set is packed with multiple remote control functions: driving and steering, boom lift, boom extension and tilt. All these functions can be controlled with a single remote control. The model set has a 4 wheel drive for improved grip and better control while working in particularly tough outdoor conditions. Moreover, the Telehandler is able to maneuver in pretty tight spaces due to its all four wheels steering system. To top it off, you can light your way with lights on the top of cab!
A captivating thing about the structure is the detailed bodywork which makes the model look just like a real loader. To expand the playability of the model, you will also find 2 attachments that can be swapped easily and quickly: bucket and fork. So, it does not matter if you drive it to a farm or a building site, the Telehandler will definitely handle all tasks needed.
Summarizing C61051W
The Telehandler's great looks, sturdy build and compact size will make all collectors to find a place for this stunning model on their shelves. The loader will also do the job needed for those who need its help - whether on farms or on building sites. The meticulously detailed and fully remote controlled model will definitely provide a rewarding building experience combined with lots of fun after the build is finished!
---