Volvo Excavator EC160 Electric Version | E010-003
E010-003W
July (2021) Version Updates:
The wires have been thickened to provide a better signal transfer and avoid damages.
The semi-circular teeth of the big arm gear matched with the rod are hardened and strengthened, which is more durable and prevents tooth breakage.

Improve the packaging foam box design to prevent damage to the controller switch.
Specifications
Material: aluminium alloy + zinc alloy + electronic components.
Car battery capacity: 7.4V/3000mAh
Remote control time: approx. 40 minutes.
Charging time: approx. 240 minutes.
Remote frequency: 2.4GHz
Remote control battery:

Lipo Battery 3.7V 2500mAh * 1

For ages 14+.
Maximum travel speed: 0.8 km/h.
Maximum climbing angle: 45°.
Rotation speed: 12s / min.
Product weight: 10000g
Packaging dimensions: 71.5 x 30.5 x 30 cm.
Package weight: 13000 g.
Packaging: polystyrene box
Package includes:
1 x excavator.
1 x battery.
1 x remote control.
1 x USB cable.
1 x manual
Maintenance Videos
Súper contento
La calidad es mejor
De lo que esperaba. Los movimientos son bastante buenos estoy muy alegre
Superb
I like this RC excavator,
But the battery does not charge the charger
EC160E has finally arrived.
I'm very happy. My RC Double E excavator has finally arrived. It is very beautiful.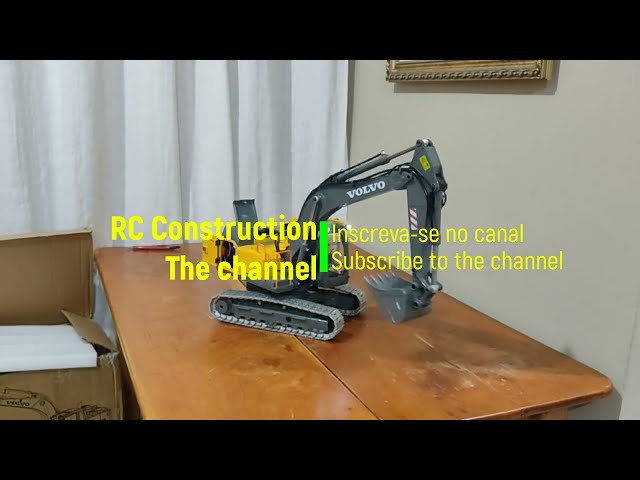 Double E Hobby Electric Volvo Excavator EC160
I just received my Excavator and I must say I am happy with my purchase. The unit is highly scaled and detailed, and has plenty of weight and power for its size. I think for the price, this is by far the best unit out there.
Excavator
So far i am impressed. Works fine out of box. Seems to be in good condition, was very well packed in a very safe and good carying box. Very pleased so far.
Was great to buy from you. Package arrived and I am very happy with my new Excavator.
Ec160e volvo 1/14 électrique
J'ai reçus la pelle, le colis a étais rapidement reçus, là seul petite bémol sur cette pelle c'est que le godet ne ce ferme pas complètement donc du coup pour charger des camions c'est un peut galère le vérin de godet a étais mal étudié car il aurais dû êtres plus long et mieux centré, après je pense qu'il vont faire une upgrade et qu'on pourra changé le vérin pour avoir une course plus longue.
Après je ne l'ai pas essayé encore dans de la terre, sable etc…
Mais elle a l'air d'avoir de la force pour c'est 10kg en poids, je pense que mon achat sera satisfaisant dans le temps.
En tous cas merci double eagle pour m'avoir arranger pour l'envoi.
Bon je vous souhaite du bon terrassement avec cette pelle et n'hésitez pas à l'acheter car ça a l'air du bon matos quand même