Ec160
Very cool to drive arround, and strong ebough to dig. Good details that make it look real! Finally a hobby grade level excavator to a reasonable price! The amplitude movement of the bucket is not enough to be able to raise the arm high and not loose the dirt in you bucket. But not a show stopper. I had a failure in the remote! The jostick that controls the bucket movement did not respond after 1h of running. Fortunately I am skilled enough to trouble shoot it and repaire it. Otherwise it would have been a return and a bad review! Found inside a broken wire that connects to the potentiometer. Repaired it. Over all that is a nice toy! Looking forward for upgrade parts to fix the bucket's lack of movement.
Súper contento
La calidad es mejor
De lo que esperaba. Los movimientos son bastante buenos estoy muy alegre
Superb
I like this RC excavator,
But the battery does not charge the charger
EC160E has finally arrived.
I'm very happy. My RC Double E excavator has finally arrived. It is very beautiful.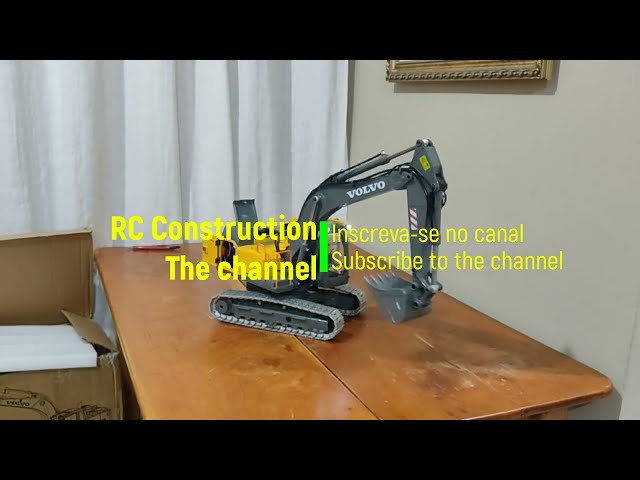 Double E Hobby Electric Volvo Excavator EC160
I just received my Excavator and I must say I am happy with my purchase. The unit is highly scaled and detailed, and has plenty of weight and power for its size. I think for the price, this is by far the best unit out there.
Excavator
So far i am impressed. Works fine out of box. Seems to be in good condition, was very well packed in a very safe and good carying box. Very pleased so far.
Was great to buy from you. Package arrived and I am very happy with my new Excavator.
Ec160e volvo 1/14 électrique
J'ai reçus la pelle, le colis a étais rapidement reçus, là seul petite bémol sur cette pelle c'est que le godet ne ce ferme pas complètement donc du coup pour charger des camions c'est un peut galère le vérin de godet a étais mal étudié car il aurais dû êtres plus long et mieux centré, après je pense qu'il vont faire une upgrade et qu'on pourra changé le vérin pour avoir une course plus longue.
Après je ne l'ai pas essayé encore dans de la terre, sable etc…
Mais elle a l'air d'avoir de la force pour c'est 10kg en poids, je pense que mon achat sera satisfaisant dans le temps.
En tous cas merci double eagle pour m'avoir arranger pour l'envoi.
Bon je vous souhaite du bon terrassement avec cette pelle et n'hésitez pas à l'acheter car ça a l'air du bon matos quand même