15 Best Building Block Sets for Adults to Buy in 2023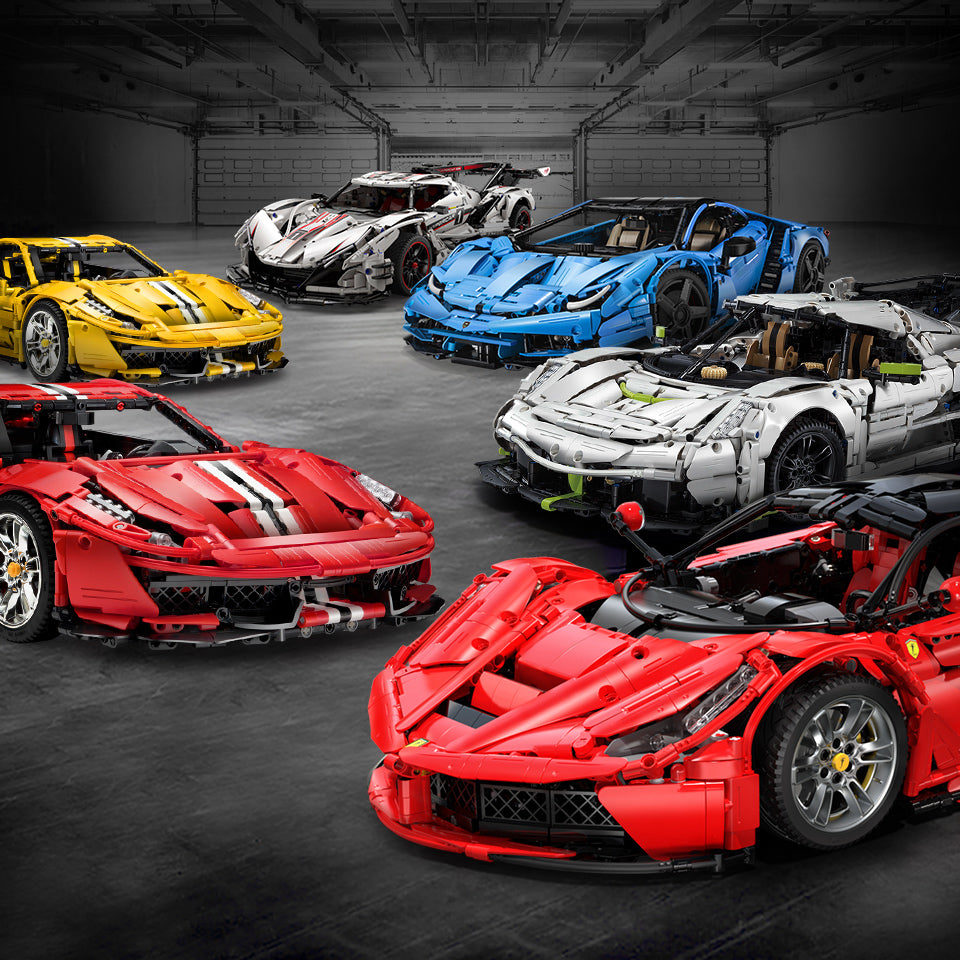 Who says building block sets are only for kids? Here at CaDA, we've always believed that the joy of creating something from scratch is timeless and ageless. This belief has driven us to design a diverse range of building sets that cater to adults, fostering their creativity and providing an enriching pastime.
So, are you ready to get started on your building journey? Stay tuned as we unveil our curated selection of the top 15 CaDA building sets for adults in 2023. Whether you're a seasoned builder or a beginner, we're confident you'll find a set in our collection that captivates, challenges and delights you. Here's to rediscovering the joy of building with CaDA!
Top 15 CaDA Building Sets for Adults in 2023
CaDA Viva Hypercar C61505W
For true speed enthusiasts, the Hypercar is the undisputed leader of racing supercars. It's roared down the fastest lanes and blazed past on the most challenging racetracks; now it's ready to make its grand entrance into your home. The CaDA Viva Hypercar C61505W set accurately brings to life the sleek, high-speed, and highly sophisticated supercar. This is the perfect set for fans who appreciate the intricate design and high-performance nature of this iconic vehicle.
Key Specs:
CaDA V12 Hypercar C61053W
Witness the intricate design and remarkable functions of the CaDA V12 Hypercar. Crafted by expert Moc builder SuhWan Ji, it features stunning gull-wing doors that reveal a meticulously detailed interior, a faux V12 engine, and a sophisticated suspension system. With the choice of high or low speeds powered by two robust buggy motors, the thrill of high-performance vehicles is brought to life in this model.
Key Specs:
CaDA Telehandler C61051W
The CaDA Telehandler boasts a robust build and stunning aesthetics that will have collectors eager to make a space for it on their shelves. Fully remote-controlled, this model allows for versatile play with its interchangeable bucket and forks, making it suitable for construction sites and farms alike.
Key Specs:
CaDA Farm Tractor C61052W
The CaDA Farm Tractor, designed by the acclaimed Eric Trax, brings an authentic touch of the countryside to your collection. With multiple motorized features, a detachable plow that can be lifted and rotated, and an open hood revealing intricate rotating gears, this tractor set offers an immersive and educational play experience.
Key Specs:
CaDA Solar System C71004W
For astronomy enthusiasts and curious minds, the CaDA Solar System delivers an engaging exploration of celestial mechanics. Turn the handle to set the Sun, Moon, and Earth in motion, while diving into interesting facts about our solar system and traditional Chinese solar terms, all included in the manual.
Key Specs:
CaDA Combination Safe C71006W
Secure your treasures with the CaDA Combination Safe, an engaging model with a realistic three-number combination lock. Designed with multiple layers of grooved codes, this interactive build promises both a fun and secure playtime experience.
Key Specs:
CaDA Initial D 1:12 Toyota Trueno AE86 C61024W
Fans of the classic Japanese manga, Initial D, will revel in this exquisite replica of Takumi Fujiwara's iconic Toyota AE86. Detailed features include opening hood and trunk doors, a realistic interior, and a working steering wheel and handbrake. Customize your model or motorize it for the ultimate drift experience.
Key Specs:
CaDA Japanese Steamed Bun Shop C66006W
Bring to life a charming corner of Japan with the CaDA Japanese Steamed Bun Shop. This double-story model showcases an active ground-floor shop and a cozy bedroom loft, creating an authentic and immersive building experience.
Key Specs:
CaDA Paris Restaurant C66009W
Escape to the streets of Paris with the CaDA Paris Restaurant. The modular design allows for easy assembly and customization, while the detailed interiors transport you straight to the heart of France. Craft your own unique Parisian scene with this delightful model.
Key Specs:
CaDA Remote Control Excavator C61082W
With the CaDA Remote Control Excavator, construction site fun is just a build away. This detailed model offers real-world operation with a fully working digger mechanism, rotating cab, and opening doors. Enhance your play with the optional motorization feature for a more immersive construction site experience.
Key Specs:
CaDA Citroen C4 WRC C51078W
Bring the excitement of the World Rally Championship to your collection with the CaDA Citroen C4 WRC. This model features dual mode control that lets you navigate via standard radio control or smartphone app. With a design that includes a rear wing and Citroën logos, it offers an accessible build that's full of racing adventure.
Key Specs:
CaDA Military HUMVEE Vehicle C61036W
Recreate military missions with the CaDA Military HUMVEE Vehicle. This model offers authentic design features, including an 8-cylinder engine, all-wheel drive, and locking differentials. With interactive elements like independent suspension, a working winch, and interchangeable machine guns or cannons, this model is ready for action.
Key Specs:
CaDA Tiltrotor Aircraft C61076W
Fly high with the CaDA Tiltrotor Aircraft. This innovative set boasts spinning rotors that tilt to simulate real flight patterns, along with a driving and steering mode for added authenticity. Display your completed build proudly on the included stand for everyone to admire.
Key Specs:
CaDA Tiger Tank C61071W
Engage in historical battles with the CaDA Tiger Tank. This World War II-era model features a rotating turret and is loaded with realistic details. Enjoy the excitement of driving and steering, and the convenience of easy charging with a hidden USB port.
Key Specs:
CaDA Formula Race Car C64004W
Gear up for high-speed fun with the CaDA Formula Race Car. This sleek model showcases a sophisticated suspension system, a faux engine with moving pistons, and a highly detailed exterior. Build, display, and race for hours of adrenaline-fueled entertainment.
Key Specs:
Why Adults Love Our Building Sets
Engaging with our building sets is not just about reliving childhood memories. It's an activity that offers numerous benefits:
Mental Stimulation: Our sets are designed to challenge your cognitive abilities, including problem-solving skills and spatial reasoning. Plus, they're a fun way to keep your mind active!
Stress Relief: Immersing yourself in the process of assembling a set can provide a therapeutic diversion from daily stressors.
Sense of Accomplishment: There's a unique satisfaction in attaching the final piece and admiring your completed masterpiece. It's a testament to your patience and dedication!
Why Choose CaDA?
Choosing CaDA means opting for high-quality, intricately designed building sets that cater to a wide range of interests. But the benefits don't stop there:
Third-Anniversary Promotion: We're celebrating our third anniversary, and we want you to join in the festivities! Enjoy 12% off when you spend $100 or more, and a whopping 15% off when you spend $200 or more.
Free Replacement Parts: We stand behind our products, which is why we offer a permanent warranty. No matter what, we'll ensure you have the pieces you need to complete your set.
Free Shipping: We're happy to offer free shipping on orders over $20, making it even easier for you to expand your collection.
What Makes Our Building Sets Stand Out
At CaDA, we strive to deliver top-tier building experiences to our customers. Here's what sets us apart:
Quality Materials
Our sets are crafted from premium materials, ensuring durability and a pleasant tactile experience.
Stunning Designs
From iconic landmarks to intricate vehicles, our diverse range caters to a variety of interests. Each set is meticulously designed with attention to detail.
User-Friendly Instructions
Our detailed step-by-step instructions ensure a smooth building process, whether you're a seasoned builder or a newbie.
Challenging and Fun
We strike a balance between challenge and enjoyment. Our sets are designed to engage your brain without overwhelming it.
Join Us on This Building Adventure
We believe in the joy and value of creating. As you embark on your building journey with our top-notch sets, we hope you'll rediscover the pleasure of creating something with your own hands — piece by piece, step by step.
And remember, our team is always here to support you. Should you ever need a replacement part or some friendly advice, don't hesitate to reach out. Here at CaDA, we're not just selling building sets — we're building a community of creators.
---